14 Nov

What is User-Centered Design?

User-centred design (UCD) is a collection of processes which focus on putting users at the center of product design and development. You develop your digital product taking into account your user's requirements, objectives and feedback. A more formal definition is the one provided by the Usability Professionals Association (UPA):
User-centered design (UCD) is an approach to design that grounds the process in information about the people who use the product (Usability Professionals Association)
User-centered design vs. Human-centered design: User-centered design is very often used interchangeably with human-centered design, but there is a difference in that it is a subset of it. Simply put, all users are humans, but not all humans will be your users (you wish!). Thus, user-centered design requires deeper analysis of users – your target audience. It is not only about general characteristics of a person; it is about particular habits and preferences of target users to come up with right solutions for specific problems.
User-centered design takes into account age, gender, social status, education and professional background, influential factors, product usage expectations and demands and many other important things that may vary for different segments. What is critical for some may be irrelevant for others. User-centered design is about deep research on users' habits, from their interactions with the product to their vision of how the product should look like and behave.
User-centered design and UX: User-centered design improves the user experience. While it can be applied to almost any product, in this article, we will focus on website or mobile app development. It helps to understand users' needs and preferences regarding features of a product, task, goals, user flows, etc. At the end of the day, it has become one of the most important user experience requirements – that of being user-centered. It should be implemented throughout the entire customer experience, no guessing, no personal opinion. What matters is what your users say and do. Every "touchpoint" that the customer has with the product should be analysed, well design and developed.
User-centered design in the commercial world: Unfortunately, there are still some companies that prioritise business goals over those of their users, prompting them to first design a product and only then search for people who would be interested in using it. User-centered design advocates the exact opposite. Before developing your idea, you need to find and speak with (representatives) of your target users first. This is because even though you have cool features, breathtaking technological capabilities and other awesome things, if you do not know your target, you have a big problem. Suffice to say that you will find yourself in a situation where, post-launch, you will need to spend a lot of money on redesigning your features or maybe you end up in a situation where you do not have enough interest in your idea to break even. You need to think about the end user right from the beginning.
In other words, user-centered design is about designing and developing a product from the perspective of how it will be understood and used by your user rather than making users adapt their behaviours to use a product. The idea is to offer a product which would support its users' existing beliefs, values, attitudes, and habits.
As you may guess, the result of employing user-centered design to your process is a product that offers a more efficient, satisfying, and user-friendly experience for the user, which leads to increased sales and customer loyalty.
User-Centered Design Principles
There are five major UCD principles;
A clear understanding of user and task requirements.
Incorporating user feedback to define requirements and design.
Early and active involvement of the user to evaluate the design of the product.
Integrating user-centred design with other development activities.
Iterative design process
It is quite simple – if you change the design late in the process, then it will typically cost ten times more than if you changed it during the requirements stage. Analysis and feedback are critical.
User-centered
design makes sure that you design and develop products right from the beginning, exactly what your clients want.
The Essential Elements of User-Centered Design
Visibility: Users should be able to see from the beginning what they can do with the product, what is it about, how they can use it.
Accessibility: Users should be able to find information easily and quickly. They should be offered various ways to find information for example call to action buttons, search option, menu, etc.
Legibility: Text should be easy to read. As simple as that.
Language: Short sentences are preferred here. The easier the phrase and the words, the better.
What is The Process of User-Centered Design Like?
User-centered design starts by identifying the target end users of the product and specifying the context of use. The main objective is to establish why these users would be interested in your product and how they want to use it.
Then, it is important to group your data to formulate a set of requirements and user goals that must be met so as to ensure that the users' needs are satisfied.
It is only after these two steps are completed that you start designing potential solutions. The design phase can be iterative in nature and can evolve from a rough concept to a complete design.
Take into account your goals, as you start this iterative process of product design and development. At the end, you need to evaluate the product you developed by doing, for example, usability testing to get users' feedback. This process should be repeated until the best design is achieved.
These users' requirements are found and defined through methods like focus groups, usability testing, card sorting, participatory design, questionnaires and interviews. Typically the following areas are analysed to get a better idea of what your target users want:
Persona: To visualise it better, a persona is created at the beginning of the process to have an example of a target, who you are trying to reach. You can even come up with the name. It is a representation of a particular group of people with the same patterns; behaviour, needs, goals, skills, attitudes, etc. Persona helps to make right decisions about product features, navigation, interactions, visual design and much more. It helps you prioritise the design work, understanding what the user needs and what functions are simply nice to add and have.
Scenario: It is a "daily life of" your target, of your persona. It is about problems persona has. Here, small details both emotional and physical ones, matter.
Use case: It is a series of steps for the persona to achieve the goal.
Here is a handy guide to which technique to use and when: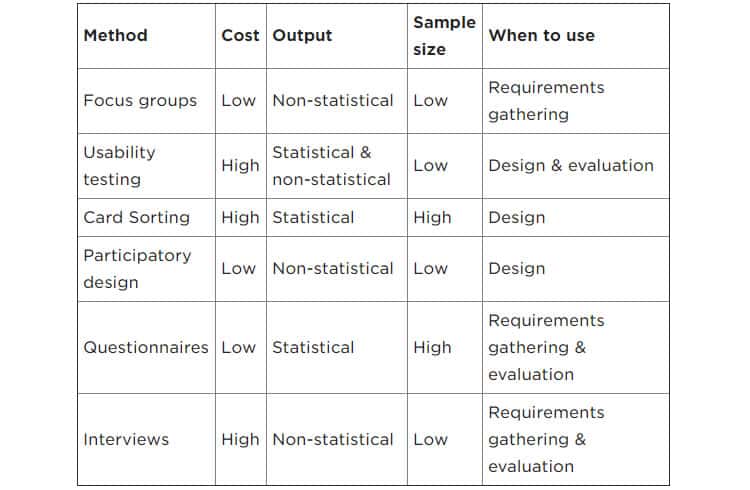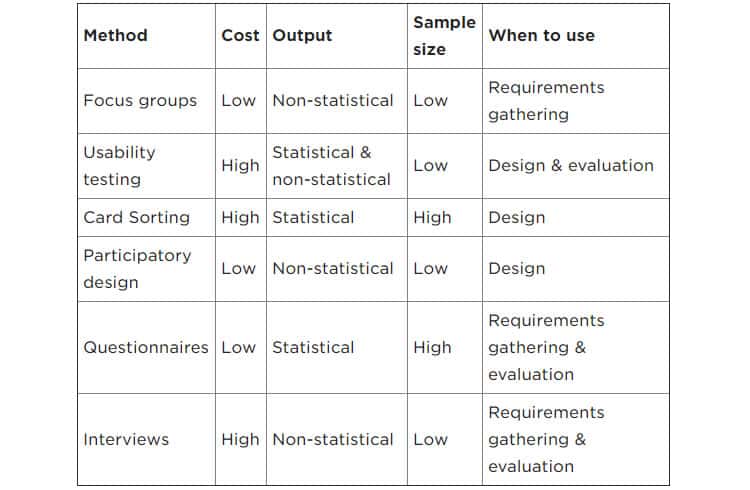 The user-centered design process answers crucial questions about users, about their tasks, goals and beliefs. The following questions are typically asked during the UCD process: Who uses your product? What are their goals? What are users searching for? What are they interested in? How do your users see the process of completing a task? What do they say and how they do it? How easy is it for your users to understand what they should do using your product? How much time do users spend on figuring our how to actually do what they want to do? And many others.
User-Centered Design and Agile
Agile methods are becoming increasingly common in software design and development, with their collaborative customer focus and iterative, test-driven approach. They are gaining acceptance in organisations as an efficient and effective ways to developing software products that make a difference. And user-centered design fits very well with Agile. Mind you, user-centered design also fits in with other development methodologies, including the (dreaded) waterfall methodology.
Here you will see some advantages brought about by the incorporation of user-centered design with an Agile methodology:
Customer Focus: All activities are focused on the user, on his/her needs by providing value through ensuring a useful, usable and engaging product.
Iterative Development: Early and frequent delivery of working software contributes to project visibility, reduces project risk via regular feedback, encourages continuous improvement and enables early realisation of business benefits, time to market.
Testing: Testing plays an integral role in every phase of the project life cycle. User testing is crucial for designing a product to ensure that you are working on the right thing at the right time.
Transparency: As stated by Marc McNeill, all stakeholders are provided with maximum visibility into project progress.
Cost reduction: Costs are reduced because users can understand and use products without additional help. There is also a reduction in training costs. Moreover, there is no need to spend time and money on redoing things.
Higher customer satisfaction: At the end of the day, the user receives what they want and how they want. As you deliver what is requested in your target market, you guarantee increased sales.
Risk reduction: As you work hand in hand with your user, you are sure you are going in the right direction.
Productivity: As you always do what your user wants, there is less need to spend time on unnecessary things or features that users will not use or like.
If you look at leading companies like Mango, HSBC, Edreams and others, you will see that they went through an agile transformation and now they are adopting this user-entered approach. These two methodologies go together, and I believe that they are key to successful innovation.
At Optus.com.au we strive for a Customer Centric Design. That said we want to design an experience that drives business outcomes. The following process and associated notes are used as a guide throughout the design process to guide our thinking.
As designers we understand that perfection is never actually reached, yet is something we constantly strive for. This endless pursuit of perfection is what we represent with the infinity symbol. This forms the basis of our design approach. We aim to apply a Lean UX methodology when possible to allow us to deliver efficiently by minimising wasted effort. We want to deliver enough to prove that what we have designed will address the problem we set out to solve, often known as the MVP.
The 4 phases
Explore – understand the current state
To make any design change we need to know where we are or what is currently going on. This phase requires analysis of what is in existence to currently solve the problem.  This involves gathering data on current performance, identifying gaps in the current experience and also allows an opportunity to explore new technology that was previously not available. It also includes looking at competitors and other non-telco sites for design trends.
Discover – understand the future state
Following exploration the next phase logically aims to identify where we want to be. Simplistically by addressing 3 key areas of desirability (do people want it), feasibility (can it be done) and viability (does it make business sense) the Discovery phase aims to paint a picture of what is the end goal for this next iteration. It should also identify barriers and critical success factors that will be expected along the way and strategies to either deal with or attain them.  This phase usually ends with the production of a strategic recommendation of how we are going to approach the problem we are addressing. For illustrative purposes this may include high level customer journey's and sketches of designs.
Design – design the future state
This is where we actually put pen to paper in terms of interface design and begin to sketch out the customer journey's, wireframes and add visual designs. At this point you could consider launching a prototype for user testing prior to launch. It is important at this stage to validate the designs with users. A key task to ensure the interface aligns to solving the initial problem. More practically it is important to align any go to market activity with the digital solution (which would likely have begun before the go to market activity begins)
Deliver – Build the future state
Build phase is where the design takes shape in a digital environment. Probably the most critical phase to allow the design carried through in the code. In particular intended interaction behaviour and alignment to other design patterns in the system. While the entire process is collaborative, this phase between designer and developer is key. There is also opportunity for high fidelity testing ideally in a development environment as close to real as possible. Post launch, A/B testing, heat maps and scroll maps can be used as an ultimate test to assess the true behaviour of the design. These findings should make their way back into the Explore phase to assess the next iteration of the design.
Think & Make
Think
Think is intended to represent the main activity in these first two phases Explore and Discover. There should be more research and looking outwards and inwards at data and conducting interviews rather than rushing to a design concept.
Make
This is intended to signify the main activity in the second two phases as opposed to the earlier phases. There should be a hands on approach to producing concepts and options starting with lo-fidelity and moving to high-fidelity once more certainty is gained. There should not be large changes in scope that require the concept to be rethought, otherwise there is a need to return to Think.
User needs & Business Objectives
The process is intended to be constantly balanced by user needs and business objectives. If met in equal measure then the best outcome is theoretically possible.